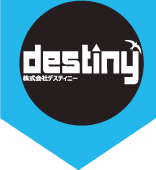 About Us
Global experiences combined with local expertise; through our solutions we keep the wheels of IT industries turning and help our clients grasp the opportunities of the fast changing world.
Destiny Inc. is a global consultancy and professional services company with delivering full complement of services from assessment to implementation to maintenance, using global resources, optimized methodologies and time-tested global standards.

Destiny has been supporting clients globally in managing the evolving role of information technology in business. As a strategic business partner, we provide diversified Information Technology solutions and services that solve our clients' business objectives. Our services and solutions include custom application software development, network engineering, Servers installation, Maintenance, Project management, IT consultancy.
社名 (Company Name)
株式会社 デスティニー (Destiny Inc.)
代表者 (CEO)
代表取締役 タクル グル モハマド (Thakur Gul Mohammad)
取締役 (CFO)
スルタナ ジェスミン アラ (Sultana Jesmin Ara)
取締役 (COO)
カービル エムディ レズワヌル (Md. Rejwanur Kabir)
東京オフィス (Tokyo Office)
〒108-0023 東京都港区芝浦4-9-18 グランドパレス田町#305 Grand Place Tamachi - 305, Shibaura 4-9-18, Minato-Ku, Tokyo. Zip: 108023TEL: 03-6459-4640 FAX: 03-6459-4641
開発センター (Development Center)
3rd Floor, Sheikh Hasina Software Technology Park, Jessore (SHSTPJ)Najir Shankarpur, Jessore-7400, BangladeshTEL: +880-1710-949299
設立 (Establishment)
平成20年5月 (May, 2008)
資本金 (Capital)
1,000万円 (10M Yen)
従業員数 (Staff)
18
主要卸先 (Major Clients)
アメリカンラグシージャパン株式会社 (AMERICAN RAG CIE JAPAN, INC.)
株式会社イクスピアリ (IKSPIARI CO., LTD.)株式会社ヌーヴ・エイ (NEUVEA CO., LTD.)株式会社 ネクストトゥエンティワン (NEXT TWENTYONE INC.)株式会社メルローズ (MELROSE Co., LTD.)株式会社 ワールド (WORLD CO., LTD.)オリックス株式会社 ORIX Corporationその他 and others
取扱商品 (Products)
MWC, ROLEX、TUDOR, OMEGA、CITIZEN, SEIKO, CASIO, ORIENT, 他新品、中古、 アンティーク時計、海外モデル及び特注時計、 オリジナル時計,時計部品
IT商品・サービス (IT Products and Services)
Microsoft Application DevelopmentMobile Application DevelopmentData Base Development SrrvicesOpen Service Development ServicesSoftware Development ServicesCMS Development ServicesBranding and MarketingCRM Solution ServicesGraphic Designing ServicesConsulting ServicesOffshore Development
取引銀行 (Correspondent Bank)
三井住友銀行 中野支店 (Mitsui Sumitomo Bank, Nakano Branch )三井住友銀行 三田通支店 (Mitsui Sumitomo Bank, Matador Branch )
IT Services
Consultancy Services
Contact
Feel free contact with us..
Address
営業所: 〒108-0023, 東京都港区芝浦4-9-18, グランドパレス田町#305
Phone
Phone : +81-3-6459-4640
Fax : +81-3-6459-4641.
Mail
info@kkdestiny.com